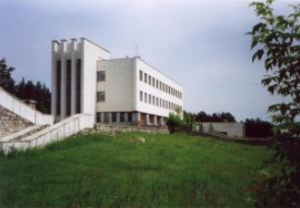 Mineralogy Institute UB RAS organized in 1988 year on the basis of scientific units named VI Ilmen State Reserve. Lenin with a view to the development of fundamental research in the field of mineralogy. Mineralogy Institute UB RAS, since its inception at the forefront in the field of Earth Sciences.
Over 30 years of existence of the Institute of research of its staff have focused on the mineralogy of the most important types of ore deposits, experimental modeling of magmatic and hydrothermal processes, solving environmental problems, arising from the mining and processing of minerals.
Institute of Mineralogy - the recognized world leader in the creation and development of lithologic-mineralogical kolchedanoobrazovaniya theory, linking into a single concept of sedimentation processes, halmyrolysis and biogenesis in the pyrite-bearing fields of modern and ancient oceans. The Institute developed the theory of affinity crystals homology; discovered new structural class of minerals - triphosphates with a chain structure, silikooksidy, silikohloridy and silicofluoride. Performed unique experiments to study the structure of the magmatic melts, and structural analogues of silicate melt and glassy state, A general theory of anionic equilibria in silicate systems. The Institute was born and successfully developed a new direction: Mineralogy and geochemistry technogenesis, giving a basis for predicting the environmental impacts of mining in ore-mining regions of the country. Currently 30 new mineral species discovered by employees of the Institute of Mineralogy. The names of our employees B.V.Chesnokova, IN. Polyakova, A.G. Bazhenova, LF. Bazhenova named new minerals Chesnokov, Polyakova, Bazhenova.
The Institute is actively involved in numerous Russian and international research projects, to address the genesis of ore deposits and prediction problems, Russian deposits revaluation high purity quartz. The Institute has developed a fundamentally new lithological and mineralogical criteria of forecasting of black deposits, non-ferrous and precious metals and non-metallic minerals. An experimental basis for the development of methods of synthesis of high purity, and doped quartz glass for nano-, microelectronics and fiber optics. synthesis technology of high purity quartz glass KS-4V, developed by the Institute, and awarded State Prize of Russia, introduced into production.
AT 1998 g is based on the Institute of Mineralogy Faculty of Geology of the South Ural State University.